Pengaruh Temperature Roasting Biji Kopi Robusta (Coffea caneophora Pierre) Terhadap Nilai IC50
Keywords:
Coffea caneophora, Hibridisasi, Nilai IC50
Abstract
Reactive Radical molecules that can cause various molecular damage to the body, so they can cause various diseases. Therefore, a lot of research is carried out regarding free radicals and antioxidants. Robusta coffee beans (Coffea caneophora) are thought to have strong antioxidant activity so that they can reduce free radical activity in the body. The purpose of this study was to analyze the antioxidant activity of robusta coffee bean extract as a result of hybridization with the DPPH method (1,1- diphenyl-2-picrylhydrazyl).  The way of maceration with methanol solvent is used for the extract. The concentrations used in the antioxidant activity test of robusta coffee bean extract resulting from hybridization started from 5; 10; 20; 30; 40; 45; and 50 ppm, and used a comparison. The spectrophotometer is used for absorbance gauges with a wavelength of 516 nm. The smallest antioxidant activity measurement result (IC50) is a sample of Robusta Lanang Coffee with a light roasting temperature of 32,484 μg / mL. The smaller the IC value50, the greater the antioxidant ability because only with a small concentration it has been able to reduce DPPH free radicals by 50%. Anova analysis and LSD test showed that H0 was rejected and H1 was accepted that there was an influence of antioxidant activity in differences in temperature roasting from various types of robusta coffee hybridization results with the DPPH method.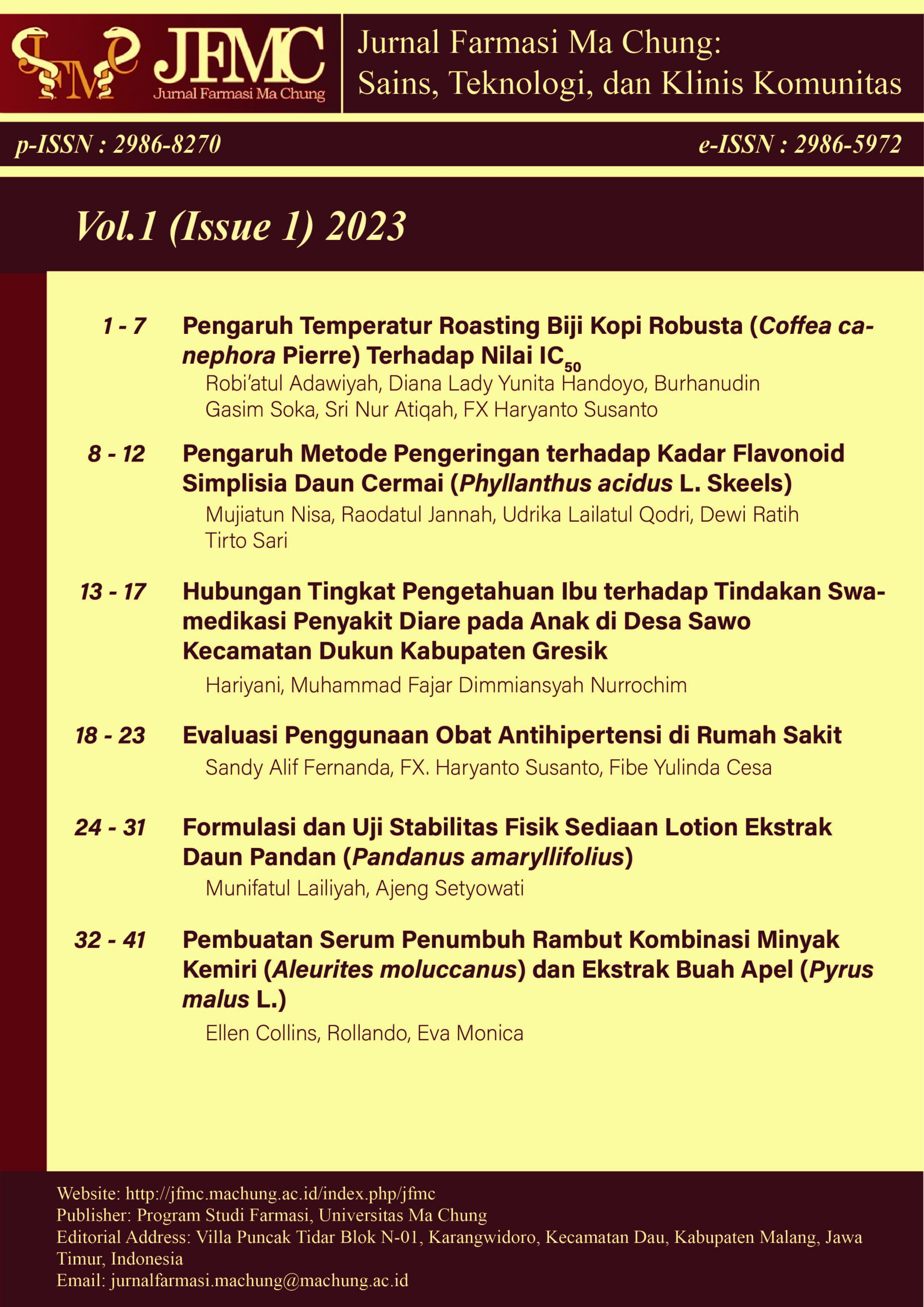 Downloads
How to Cite
Adawiyah, R., Handoyo, D. L. Y., Soka, B. G., Atiqah, S. N., & Susanto, F. H. (2023). Pengaruh Temperature Roasting Biji Kopi Robusta (Coffea caneophora Pierre) Terhadap Nilai IC50. Jurnal Farmasi Ma Chung: Sains, Teknologi, Dan Klinis Komunitas, 1((1). Retrieved from https://jfmc.machung.ac.id/index.php/jfmc/article/view/1
License
Copyright (c) 2023 Robi'atul Adawiyah, Diana Lady Yunita Handoyo, Burhanudin Gasim Soka, Siti Nur Atiqah, FX Hariyanto Susanto
This work is licensed under a Creative Commons Attribution-ShareAlike 4.0 International License.